Events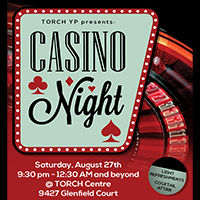 Casino Night

Date: 8/27/16
Time: 9:30 PM

Location: TORCH Centre
Address: 9427 Glenfield Ct, 77096
Phone: (713) 721-6400
Email: johnny@torchweb.org

Door Price: $35
Join TORCH YP as we host Casino Night on Saturday, August 27th from 9:30 pm - 12:30 am at the TORCH Centre.
There will be music, light refreshments, and an open bar. The Casino Night will include Roulette, Craps, Blackjack, and a Poker Tournament!
Buy your tickets before they run out!!