Events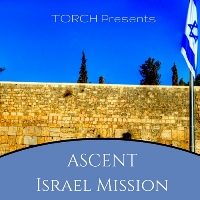 ASCENT Israel Mission 2016

Date: 2/20/15
Location: Our Homeland
Address: Israel
Phone: (713) 721-6400
Email: zwolbe@torchweb.org

Join ASCENT and Jewish Women on a Journey for the second annual Mission to Israel. Experience Israel in a Whole New Way together with a group of vibrant Jewish women, ages 45-60, for a fun-filled journey of self-rediscovery & exploration from February 21, 2016 through March 1, 2016.
TOUR the Mystical City of Safed
ABSORB the Beauty of Tiberias
EXPLORE the port city of Old Jaffa
THRILL to the New Sights of Tel Aviv
CRUISE the Kinneret
WANDER the Historical Alleys of Jerusalemís Old City
PARTICIPATE in the Western Wall Experience
CONNECT to your Ancestry at Rachelís Tomb
If you have interest in joining this amazing trip to the Holyland with the ASCENT women, please complete this application - APPLY HERE. Limited spaces available. Acceptance based on specific criteria.
Please do not register on this page unless your application has already been approved. For questions, comments or inquiries please email zwolbe@torchweb.org
Only $3,199 including airfare (Round trip from NY)
VIP Club Price not applicable for this event :)