TNT - Twenties'n'Thirties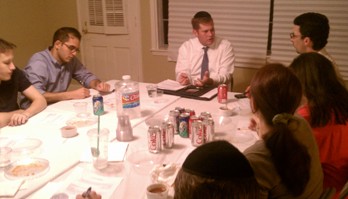 The Twenties'n'Thirties (TNT) division of TORCH was founded in 2006 and directed by Rabbi Yaakov Wohlgelernter since August 2010.
The lifestyle of today's young professional greatly limits his or her ability to dedicate serious time to pursuits other than social and work obligations. Traditionally, advanced Jewish learning has been confined to the walls of the yeshiva and seminary. Since its inception in 2006, TNT has successfully bridged these worlds and made learning a reality for over 350 young adults.
TNT offers many programs for Houston's young adults including; The Young Adult Chavurah (a.k.a. TALK), is a unique and engaging series studying entertaining and practical topics, geared towards the lives of the Young Jewish Professional. Students enjoy the relaxed atmosphere where they meet great new people, enjoy delicious home-cooked meals and engage their minds with thought provoking lectures. TALK is formatted to give the group time to discuss what they learn, with an amazing dinner served after each class. Rabbi Yakov Wohlgelernter brings his energy and enthusiasm to the table every Monday evening at 7:15.
Previous Directors of TNT have been Rabbi Sruli Weinreb (2006 - 2008) and Rabbi Danny Masri (2008 - 2010). Other TNT (Twenties'N'Thirties) programs include social justice, seasonal events, BBQ's and weekly Shabbat Dinners. Join Us!