About Torch & Slingshot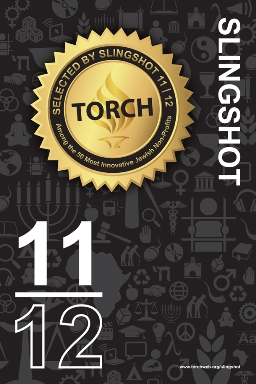 TORCH is thrilled to have been selected by SLINGSHOT 11/12 as one of the 50 most innovative Jewish Non-Profits in North America!
Below are some commonly asked questions about Slingshot and our selection.
Q: What is Slingshot?
Slingshot, A Resource Guide to Jewish Innovation, is an annual compilation of the 50 most inspiring and innovative organizations, projects, and programs in the North American Jewish community today. First published in 2005, and now in its seventh edition, Slingshot continues to highlight those organizations in Jewish life with particular resonance among the next generation.
Q: Based on what criteria was TORCH chosen?
The evaluators review each nominee against four criteria:
1.
Innovation
- How creative, inventive, pioneering or groundbreaking is the organization in responding to the changing needs of the Jewish community and the world around it?
2.
Impact
- Does the organization reach a critical mass of people? Is it affecting the attitudes and behaviors of its constituents and the Jewish community?
3.
Strong leadership
- Is there someone or some team at the helm who brings character, vision and guidance? Is this person or team paving a new path in the Jewish community? Is this person or team seen as a strong leader(s) by the organization and by the field?
4.
Organizational effectiveness
- Is the organization sound? Is it strategic in the way it does business? Is it efficient and responsible about how it raises and spends money?
Q. Why was TORCH selected?
The Torah Outreach Resource Center of Houston (TORCH) believes that all Jews have a right to Jewish education; however, traditional Jewish education prevents thousands of Jews from fully engaging with Judaism due to location, content or messaging. While most educational programs align themselves with a denomination or synagogue, TORCH ignores traditional divisions in favor of finding innovative ways to be relevant for Jewish communities in Houston and to reach Jews where they are.
For example, TORCH's Jewish Ethics Institute (JEI) reaches Jewish doctors, lawyers and business professionals who receive accredited ethics hours while learning about contemporary Jewish ethics laws. For many participants, JEI is the first Jewish education experience they have had in years, and it becomes the first step to re-engage with Jewish life. TORCH also runs parallel programs for high school students, Jewish women, young adults and others.
By avoiding the labels common within Jewish education, TORCH serves 10,000 to 15,000 participants each year through programs that include lunchtime learning opportunities, one-on-one study, events and meetings in classrooms, coffee shops and many different synagogues. Going forward, TORCH is in the process of becoming more focused and effective at reaching into the Jewish community.
For more information visit http://www.slingshotfund.org