JSN - Jewish Student Network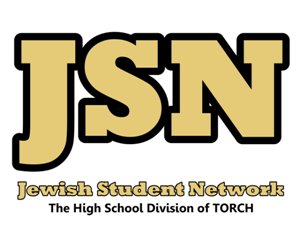 Welcome to the JSN of Houston!
JSN (Jewish Student Network) is the High School Division of TORCH. JSN was originally founded by TORCH in December 2009 under the name JSU (Jewish Student Union), in partnership with the OU and its subsidiary NCSY. As of January 1, 2012 TORCH's High School division will operate as JSN and independently of the OU/NCSY, with some programming changes and adjustments.
There are thousands of Jewish High School students in Houston who attend different private and public schools, which offer minimal to no Jewish programming at all. The goal of JSN is to provide Jewish educational and cultural resources to these teenager, in school and in the Houston community. Students learn a variety of topics, including the Land of Israel, Jewish culture and traditions, morals and values. Students are also encouraged to participate in JSN's out-of-school educational and social programs.
Since its inception we've had an average of 250 High School students participate weekly in our regular offerings, in their respective locations. We look forward to the continuation of these successful programs under the new JSN brand.
These clubs also enable student leaders to have the experiences that will strengthen their cultural and religious identities as part of the Jewish people, bringing the traditions and stories of our rich history to life, as well as creating an everlasting connection between these students and their heritage. Programs include discussions on timely topics, holidays, interactive activities (such as the ever popular "Jewpardy Quiz Game"), with guest speakers, activists and community leaders from a variety of Jewish organizations.
JSN is continuously expanding to bring Jewish experiences to students across Houston. TORCH's High School division has previously been active in the following schools and is commited to the continued expansion of offerings to the High School youth in our city:
• Bellaire
• Carnegie
• Emery Weiner
• Episcopal
• HSPVA
• Kinkaid
• Lamar
• Memorial
• St. John's
Please feel free to contact for more information about our JSN programs. If you would like to start or participate in a local JSN program, please email JSN@torchweb.org and we'll be happy to offer a program at your school.