Events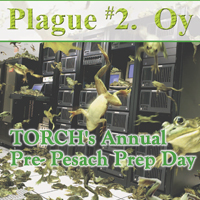 Pre-Pesach Utensil Kashering

Date: 3/29/09
Time: 10:00 AM - 12:00 PM

Location: JCC
Address: 5601 Braeswood
Phone: 713-721-6400
Email: Info@torchweb.org

Door Price: $ Donations Accepted
TORCH will once again be kashering utensils before Pesach.

>> Utensils cannot be used for 24 hours prior to Kashering.
>> Utensils must be cleaned thoroughly prior to Kashering.
>> Only METAL UTENSILS that have been used for cooking, serving or eating with chametz and are in good condition may be Kashered.
>> Frying pans and bakeware cannot be Kashered.
The process of Kashering includes dipping the utensils in boiling water to cleanse it.