Events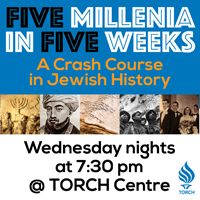 Five Millennia in Five Weeks

Date: 9/28/16
Time: 7:30 PM

Location: TORCH Centre
Address: 9427 Glenfield Court, 77096
Phone: (713) 721-6400
Email: info@torchweb.org

Door Price: $15 / Per Class
Join Rabbi Yaakov Wolbe in a super quick journey through the 5000 years of Jewish Histroy in only five weeks!!
PART ONE: FAITH, FATHERS AND FOUNDATIONS
PART TWO: HOMELAND, HEGEMONY AND HOSTILITY
PART THREE: RABBIS, RENAISSANCE AND RECLAMATION
PART FOUR: VIOLENCE, VICISSITUDES AND VALIANCY
PART FIVE: CHAOS, CATACLYSM AND CONSOLIDATION
Join today!!