Events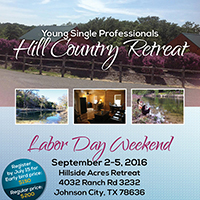 Labor Day Weekend Retreat

Date: 9/02/16
Time: Labor Day Weekend

Location: Hillside Acres Retreat
Address: 4032 Ranch Road 3232, Johnson City Texas
Phone: 713-721-6400
Email: johnny@torchweb.org

Door Price: $200 After Aug. 1
Join us in September for our first ever Labor Day retreat for single Jewish young professionals!
Only 20 spots available, this weekend will have it all! Delicious meals, an amazing Shabbat experience, private pool, fishing pond, state of the art cabins with AC, and the location is situated right next to Pedernales Falls State Park, one of the nicest Parks in Texas!!!
Early bird for the full weekend is $150, after July 15th the price goes up to $200.
Hope you'll join us for an incredible weekend that you'll never forget!