Events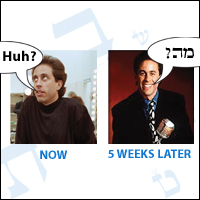 Houston Ulpan

Date: 3/08/09
Time: 8:00 PM

Location: Torah VaChessed
Address: 9730 Hillcroft
Phone: 832-971-3781
Email: gjacknin@torchweb.org

Door Price: $15 a class
HOUSTON ULPAN: CRASH COURSE IN LEARNING TO SPEAK MODERN HEBREW!
First Semester: Ten Classes!!
Questions & Answers
Q. Who can study with Houston Ulpan?
A. Houston Ulpan is a new and exciting program that enables individuals aged 16 and above from all over Houston to learn to speak basic Hebrew and improve skills in translating basic texts in a extremely fun and entertaining environment.
Q. Who is behind the Houston Ulpan?
A. Houston Ulpan is conducted by Rabbi Gavriel Jacknin of TORCH: An experienced, fun-loving, and entertaining Rabbi and educator.
Q. What are the minimum requirements?
A. Nothing. There arenít any! However, it helps to be able to read and write Hebrew on a very basic level. Nevertheless, one will still benefit from this class even without prior knowledge. Rabbi Gavriel Jacknin also teaches Crash Course in Hebrew Reading Levels 1 on Sunday mornings, and Level 2 on Sunday evenings for free. For more information please call 832-971-3781.
Q. What is the method of learning?
A. From his personal experience, Rabbi Jacknin personally learned his Hebrew based on a method of remembering words through mnemonic signs from the renowned Ulpan masters in Jerusalem, Israel.