Events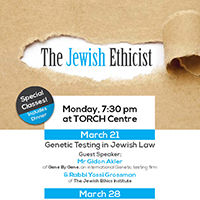 The Jewish Ethicist

Date: 3/28/16
Time: 7:30 PM

Location: TORCH Centre
Address: 9427 Glenfield Ct, Houston, TX 77096
Phone: (713) 721-6400
Email: johnny@torchweb.org

Door Price: $10
Join TORCH YP for an exciting two part Jewish Ethics series featuring Rabbi Yossi Grossman of the Jewish Ethics Institute, and Mr Gidon Akler of Gene By Gene.
The first class will discuss the ethical ramifications of genetic testing, and the second class will discuss the ethics of paramedics treating terrorists, especially in Israel. Multimedia presentations as well as dinner will be provided. Parking is free.
Cost: $10 Location: TORCH Centre - 9427 Glenfield Court
Look forward to seeing you!