Events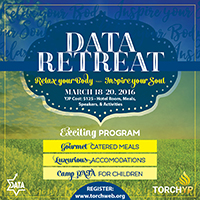 2016 DATA Retreat

Date: 3/18/16
Time: All Weekend

Location: Westin DFW Airport Conference Center
Address: 4545 West John W Carpenter Freeway, Irving, TX 75063
Phone: (972) 929-4500
Email: johnny@torchweb.org

A weekend that relaxes the body and inspires the soul.
Join all branches of DATA as we join to spend an amazing Shabbos together. Enjoy great food, great fun, and amazing speakers. This year we will be joined by Rabbi Mordechai Becher. Rabbi Becher is a former IDF soldier with Rabbinic Ordination from the Chief Rabbi of Israel. He is sought after around the world, and renowned speaker at conferences. Come be inspired by his breadth of knowledge and amazing classes.
We are also excited to welcome Rabbi Gav Friedman back to Dallas. Rabbi Friedman has been inspiring and entertaining audiences around the world and at Aish HaTorah for years now, and has a cult following among the Israel Trip women and YJP.
March 18-20, 2016
Westin DFW Airport Conference Center
YJP Rate: $125