Events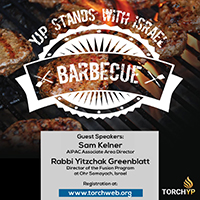 YJP ~ Stand With Israel ~ BBQ

Date: 3/15/16
Time: 7:00 pm

Location: Schlossberg Residence
Address: 11919 Pepperdine Ln, Houston, TX 77071
Phone: (713) 721-6400
Email: johnny@torchweb.org

Door Price: $15
Our brothers and sisters in Israel are currently experiencing a difficult wave of terror. There doesn't seem to be any way to stop this madness.
As Houston's community of Jewish Young Professionals with an affinity for Israel and its people, let's rally together for an evening of solidarity for our family in suffering.
We'll be privileged to hear words from the amazing Rabbi Yitzchak Greenblatt coming in from Israel for this event, as well as AIPAC associate area director, Sam Kelner.
Please come and tell your friends to attend this important event.