Events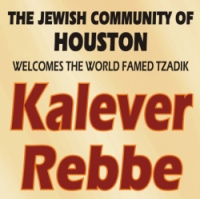 Meet the World-Famed Kalever Rebbi!!

Date: 12/08/13
Time: 6:30 PM

Location: Congregation Torah Vachesed
Address: 9730 Hillcroft Street, 77096
Phone: (713) 721-6400
Email: info@torchweb.org

In Partnership With: Congregation Torah Vachesed

Have you ever wanted to meet a Chassidic Rebbi? This is your chance!
The Kalever Rebbe is world renowned for his inspiration, wisdom, advice and blessings for child rearing, marital harmony and livelihood all all other pressing issues of today.
The Rebbe is a direct descendant from many of the students of the Baal Shem Tov, and is the sixth generation leader of the Kalev Chassidic dynasty. He is a Holocaust survivor, originally from Hungary.
For 30 years, the Rebbe has met with people of all ages and denominations; in over 50 countries, hundreds of thousands have been uplifted and motivated by his advice and words of inspiration.
The Rebbe will be available to give Blessings, guidance and advice after sharing word of inspiration: English: 7:00pm. Hebrew: 9:30pm. Join us this Sunday!!
Read more about the Rebbi and his Chassidic Dynasty here