Events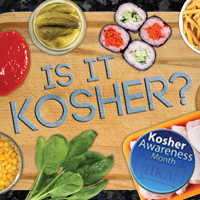 Kosher Month 2013 - Event 4

Date: 3/11/13
Time: 8:00 PM

Location: Meyerland Minyan
Address: 9606 Chimney Rock (in the H-E-B plaza)
Phone: (832) 477-2406
Email: alex@kosherhouston.org

In Partnership With: HKA - Houston Kashruth Association

Door Price: $36 / HKA Membership
Join HKA and TORCH for amazing events including Kosher Wine & Food Tasting, Supermarket tours, Educational Programs and much more! Your family's registration entitles you to every event, as well as over $100 in gift cards and coupons, discounts at local kosher restaurants and a free book, just to list a few!
Kosher Month Schedule:
Event 1: Sunday, March 3rd at 11am @ ERJCC - Jewish Community Center (5601 S. Braeswood, 77096)
  • Kosher Chili Cookoff (Over 30 teams)

Event 2: Tuesday, March 5th at 7pm @ Randall's at Meyerpark (4800 W. Belfort at S. Post Oak, 77035)
  • Kosher 101 Class with Rabbi Yaakov Wolbe
  • Hands on Kosher Shopping Tour in the Randall's Supermarket
  • A delicious dessert buffet! (Sponsored by Randall's)
Event 3: Saturday, March 9th at 8:30pm @ Congregation Torah Vachesed (9730 Hillcroft Street, 77096)
  • The Kabbalah of Kosher with Rabbi Yaakov Cohen
  • Amazing Israeli Wine Tasting
Event 4: Monday, March 11th at 8:00 pm @ Meyerland Minyan
  • Going Kosher in 3 easy steps with Rabbi Aryeh Wolbe
  • Desserts & Coffee
Event 5: Wednesday, March 13th at 7:30 pm @ The Wolbe Residence (7527 Apache Plume Dr.)
  • Challah Baking Workshop with Zehava Wolbe
  • Kosher Eaters Anonymous – Support Group with Kosher Panel
Event 6: Friday, March 15th at 7:15pm @ The Wolbe Residence (7527 Apache Plume Drive, 77071)
  • Kosher Month Shabbat Celebration Dinner – Join HKA, TORCH and all Kosher Month members at the Wolbe home for a delicious dinner, complete with kosher month awards and a final dose of kosher month inspiration.