Events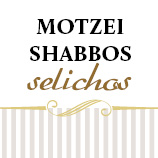 Pre-Selichos Inspiration

Date: 9/08/12
Time: 11:00 PM

Location: Meyerland Minyan
Address: 9606 Chimney Rock, 77096
Phone: (713) 721-6400
Email: info@torchweb.org

In Partnership With: Meyerland Minyan

Join TORCH and the Meyerland Minyan in a Pre Slichot inspiration, getting us into the spirit of Rosh Hashanah with incredible lectures on the topics of forgiveness, repentance and judgement.
11:00 - In Society We Trust? By Rabbi Yaakov Wolbe
11:20 - Break. Refreshments will be served.
11:30 - Gaining Perspective of the High Holidays By Rabbi Aryeh Wolbe
Selichos will begin at 12 midnight.