Events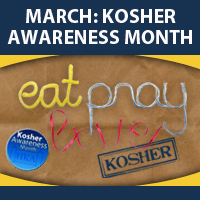 Kosher Awareness Month 2012: Season 6

Date: 3/30/12
Time: 8:00 PM

Location: Detailed Below
Address: Various Location
Phone: (713) 721-6400
Email: info@torchweb.org

Kosher is too easy not to try!
Join HKA and TORCH for amazing events including Kosher Wine & Food Tasting, Supermarket tours, Educational Programs and much more! Your family's registration entitles you to every event, as well as over $100 in gift cards and coupons, discounts at local kosher restaurants and a free book, just to list a few!
Kosher Month Schedule:
Event 1: Sunday, March 4th at 4pm @ Congregation Torah VaChessed (9730 Hillcroft, 77096)
  • Kosher 101 Class with Rabbi Yossi Grossman
  • Hands on Kosher Shopping in the Neighborhood Walmart
  • Signature BBQ with the best hot dogs, burgers, chicken, beer, and soda
  • Randall's tour at 7 PM and a delicious dessert buffet!
Event 2: Monday, March 12th at 7pm @ Meyerland Minyan (9606 Chimney Rock Rd, 77096)
  • The Kabbalah of Kosher with Rabbi Yaakov Cohen
  • Delicious Israeli Food
  • Amazing Israeli Wine Tasting
Event 3: Wednesday, March 14th @ Costco (3836 Richmond Ave, 77027)
  • All-day, All-FREE, All-Kosher store wide food samples
  • Tour the Kosher products in Costco between 6pm & 7pm with the TORCH Rabbis, while sampling an array of kosher products and your chance to suggest future products to be stocked
Event 4: Wednesday, March 21st at 7:30 pm @ The Wolbe Residence (7527 Apache Plume Dr.)
  • Challah Baking Workshop with Zehava Wolbe
  • Kosher Eaters Anonymous – Support Group with Daniel Schlossberg
Event 5: Monday, March 26th at 7:30 pm @ Congregation Beth Rambam
  • Going Kosher in 3 easy steps with Rabbi Danny Masri
  • Desserts & Coffee
Event 6: Friday, March 30th at 8pm @ The Wolbe Residence (7527 Apache Plume Drive, 77071)
  • Kosher Month Shabbat Celebration Dinner – Join HKA, TORCH and all Kosher Month members at the Wolbe home for a delicious dinner, complete with kosher month awards and a final dose of kosher month inspiration.
  • Advanced RSVP REQUIRED