Events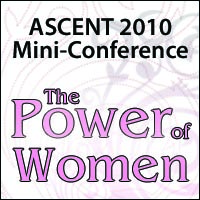 ASCENT Mini Conference: The Power of Women

Date: 11/07/10
Time: 10:00 AM

Location: Congregation Torah VaChesed
Address: 9730 Hillcroft
Phone: (713) 721-6400
Email: ascent@torchweb.org

Door Price: $22
Join ASCENT and Guest Speaker, Dr. Lisa Aiken for the 2010 Mini Conference for WOMEN.
10:00 AM - Registration
10:30 AM - Keynote Address by Dr. Lisa Aiken
Supermom, Superwife, Superwoman, Superexhausted - Juggling our Roles
11:30 AM - Light Dairy Brunch
11:45 AM - Choose your track:
- Marcie Baker Turrin - 30 Ways to Lose Your Clutter
- Faige Grossman - Where Do We Go From Here? The Jewish View of the Afterlife
- Rabbi Yakov Wohlgelernter - Chanukah: What's Love Got to Do with It?
- Free Parking -