Events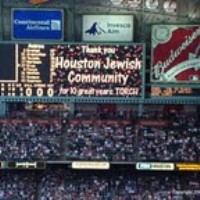 Kosher Day at Minute Maid

Date: 6/06/10
Time: 1:05 PM

Location: Minute Maid Park
Address: 501 Crawford St / 77002
Phone: (713) 721-6400
Email: kosher@torchweb.org

Houston Astros vs. Chicago Cubs
Due to the incredible efforts of Irving Pozmantier, the Houston Astros will be sponsoring a Kosher day at minute maid On June 6th, 2010 when the Houston Astros host the Chicago Cubs.
The Astros have agreed to purchase a brand new hot dog maker to be dedicated exclusively to kosher events and we will be given very simple ticketing arrangements for our designated section.
Also they have agreed that anyone can purchase kosher hot dogs regardless of where they are sitting.
This program is coordinated by the Meyerland Minyan and Elliot Cin.
A link to discounted ticket purchases will be available here shortly.