Events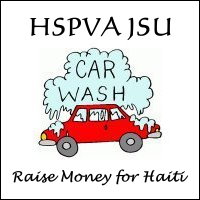 HSPVA JSU Car Wash for Haiti!

Date: 2/16/10
Time: 4:30 PM

Location: Chik-Fil-A Parking Lot
Address: Meyerland Plaza
Phone: (845) 538-6128
Email: mjacknin@torchweb.org

Door Price: $Free
BE A LEADER AND MAKE A DIFFERENCE
Please join the HSPVA JSU as we raise money for Haiti. We are going to have a car wash at the Chik-Fil-A in Meyerland. The goal as of now is to raise 500 dollars and hopefully we can strive for more!
If you have any questions or concerns, do not hesitate to ask! We are really hoping that this is going to be a very successful event. It is not possible without you, so please be a part of a wonderful fundraiser!
COME TO THE NEXT JSU MEETING NEXT TUESDAY, JANUARY 26TH TO GET MORE INFORMATION!
You can make the difference in the lives of those in need.
Sincerely,
HSPVA JSU President,
Amanda Alexander