Events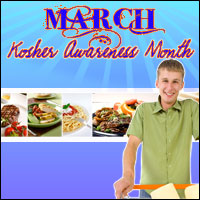 Kosher Week 2010

Date: 3/13/10
Time: All Week

Location: Houston, TX
Address: Your Home
Phone: (713) 721-6400 x105
Email: gjacknin@torchweb.org

Discover the "Why's, the What's and the How to's" of Kosher all year round and start before Passover!
The week of March 7 (through March 13)
Participant Benefits Include:

10% off at Kosher establishments
Gift Cards to area supermarkets
A FREE copy of the "Kosher for the clueless but curious"
Kosher Annonymous support group
Kosher Supermarket tour and free samples
Exciting Childrens programs & Contests
Cooking Class (Thursday, March 11, 2010)
Pre-Pesach Preparation Class
More Educational Programs ...
You can do it ... Over 100 families have turned kosher through this program. It's easier than you think!