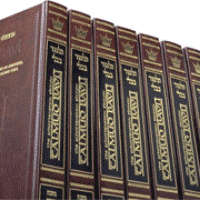 Daf Yomi: The Daily Talmud Folio

Regularity: Daily
Time: See Below
Location: Young Israel of Houston
Address: 7823 Ludington Drive

Level: Advanced
Division: TORCH

Phone: 713-721-6400 x103
Email: ynagel@torchweb.org
Be part of the tens of thousands who study the daily folio of Talmud throughout the world. Join Rabbi Yaakov Nagel every morning and infuse your day with the refreshing teachings of our heritage.
Sunday: At 9:00 in the Young Israel of Houston
Monday - Friday: 7:00 AM in the Young Israel of Houston
Shabbos: 1 1/2 hours prior to Mincha at Rotating locations
Led by Rabbi Yaakov Nagel
Add your name ... join today!!
Read more about Daf Yomi: Wikipedia | DafYomi.org | Daf Yomi Advancement Forum | E-Daf | E-Daf
Click Here - to read about the TORCH Daf Yomi during Hurricane Ike