Ascent Dedication
ASCENT for Women is a multi-faceted women's division designed to provide educational and social programs specifically targeted to address the unique needs and interests of Jewish women throughout Houston.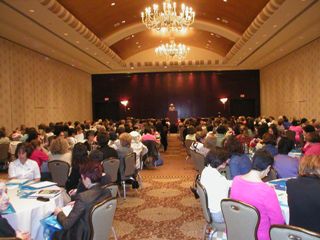 The Arlene Stock Center of Torah for Women is aptly named for a true woman of valor, Arlene Stock, ob"m, who was suddenly and tragically taken from our midst on December 13, 2000. Arlene personified the verse in Micah (5,8) "...and what does the Lord your G-d request of you but to do justice, love kindness and walk humbly with your G-d". With never-ending grace and humility and with a constant smile, Arlene performed myriad acts of kindness daily, whether in her capacity as devoted wife, dedicated and loving mother, friend and confidante, or energetic volunteer for the many organizations and Jewish causes to which she willingly gave of herself.

In addition to her love of kindness, Arlene was an avid student and staunch supporter of Torah, and she enthusiastically delighted in and embraced opportunities to advance its study. Torah study to Arlene was not, however, simply an abstract intellectual exercise; rather, in the spirit of "The wisdom of women built her home," (Proverbs 14, 1), Arlene utilized her Torah knowledge to create, together with her wonderful husband Marc, a veritable model Jewish home where Torah was lived every moment of every day.

Arlene performed her role as a Jewish woman gloriously, and in the process, touched and bettered the lives of many. The waves of pain and grief at her passing, and the powerful memory of the way Arlene lived her thirty two years as a Jewess, are powerful catalysts for expression of otherwise dormant energy. It is our challenge to channel that energy into examining, revitalizing, and improving the way we live our lives as Jewesses, and in so doing, emerge stronger and wiser for the experience.

We are grateful for the ongoing generosity of Howard and Linda Waldman in underwriting the Annual Houston Conference for Jewish Women, in loving memory of Arlene.

ASCENT for Women aims to perpetuate the ideals exemplified by Arlene by:
Arranging Torah lecture series, self-study groups, and conferences;
Establishing a community-wide Jewish "sisterhood" to afford women the opportunity to give of themselves in order to better the lives of others;
Uniting women of differing Jewish backgrounds through various social functions.
May we merit to carry on Arlene's legacy, and may her memory be a blessing for us all.