The Women of TORCH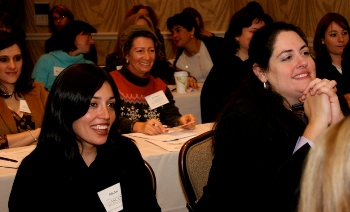 ASCENT (Arlene Stock Center of Torah for Women) is the Women's Division of TORCH. Established in 2004 in loving memory of Arlene Waldman Stock. The mission of ASCENT is to unite the women of the Jewish Community of Greater Houston through quality classes and programs.
ASCENT programs include the annual Houston Conference for Jewish Women, Challah Baking workshops, Kosher cooking classes, advanced and beginner programs. The recently started PRISMS - a breakfast club - for women ONLY meets every Wednesday at 10am. These women join together to enjoy a sip of coffee, breakfast, and practical insights into the Torah. In this relaxed atmosphere, the group enjoys open discussions about topics relevant to everyday life. With insights gleaned from the weekly Torah portion, these lessons are both classic and timely. Stop by and enjoy our women only breakfast club.
If you would like to volunteer with ASCENT or for more information about our programming please contact the TORCH office. ASCENT is also the producer of the annual Houston Conference for Jewish Women. HCJW is sponsored in conjunction with many major Houston Jewish organizations and is held every year in the fall.
If you'd like to learn and reclaim your heritage with other like minded women, or to set up a class or learning group with your own friends, please contact us. We'd love to help!
"For Women By Women"
ASCENT Programming is Partially Underwritten by
a Generous Grant from the Bridgeway Foundation.